Fränkel functional regulator
It took quite a long time for Doctor Fränkel's research to be recognized in America. Indeed, he faced the scepticism of orthodontists who doubted the efficiency of his appliances. Actually, in regard to the appliances used at the time in America, those of this West German doctor seemed quite uncommon. Fränkel actually not only proposed a new type of appliance, but above all a new philosophy in the field of orthodontic oral surgery. Indeed, unlike American specialists who worked essentially on dental movement, the West German doctor proposed working on all buccal functions, focusing on the correction of dental movement as well as that of the tongue, muscles and cheeks. Through correspondence with a Chicago University professor, Doctor Fränkel succeeded in introducing American orthodontists to his appliances and to the results of his research. Since then, he has greatly contributed to international orthodontic literature.
Doctor Fränkel's appliances correct some abnormal functions (improper deglutition, buccal respiration, improper tongue position, weak lip seal) while enabling harmonious development of muscles and maxillaries. These appliances exert their forces on the vestibules, on which two vestibular screens part the buccal and labial muscles of the dentition (from 0.5 to 3mm). Pressure exerted on the maxillaries by the cheeks and lips is thereby eliminated. By this very fact, the tongue provides natural expansion of the dental arches. Indeed, these appliances first transmit their force into the development of the bone base, while above, the dental arches resume their proper positions on their own. In general, expansion gained with a Fränkel is maintained. In comparison with other orthopaedic appliances, risks of relapse are low. Four types of Fränkel (respectively called FRI, FRII, FRIII and FRIV) can be used whether Class I, Class II Division I, Class II Division II or Class III malocclusions are being treated. The FRIII, commonly used, is shown here.
Material required for manufacturing
– Upper stone model with good definition of mucosal folds
– Lower stone model with good definition of mucosal folds
– Wax joint of 2 mm space with or without mandibular advancement


Available colors
Patients may choose the colour of their appliances. Regular acrylic is then replaced with coloured acrylic. One to three colours may also be chosen per appliance. These options actually encourage children to cooperate closely during orthodontic treatment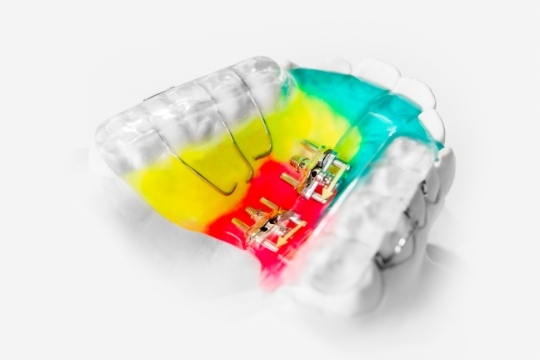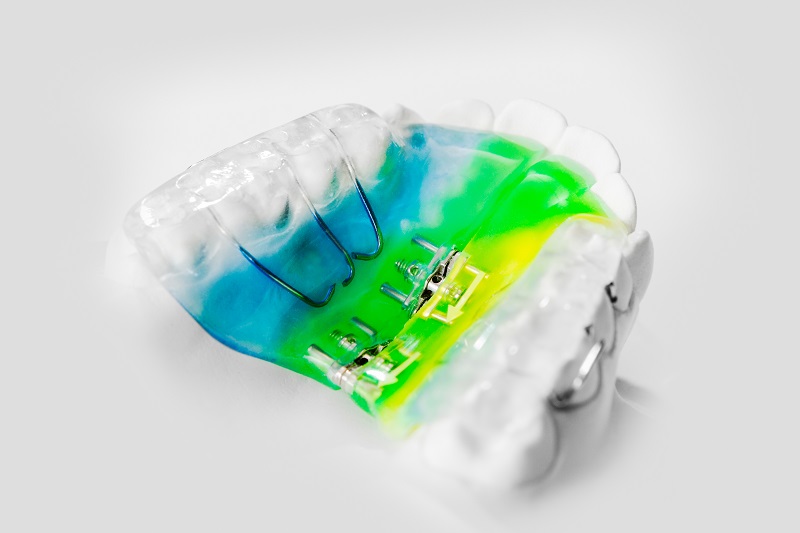 Would you like to receive the colors display?